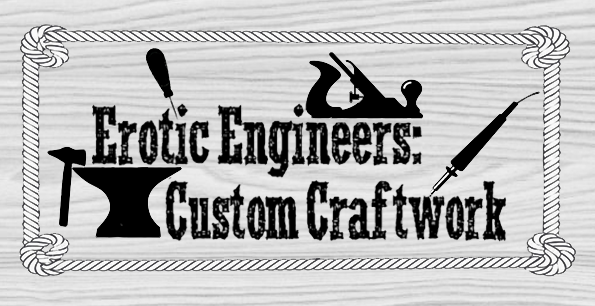 Erotic Engineers is a tight-knit group of kinky toy-makers and crafts-persons.  We primarily make custom toys from wood, metal or other materials, however we also will be vending at a few local events, where we sell ready-made toys.  If desired, we can customize ready-made toys at vending events with wood-burning on the spot!
Our Mission
We pride ourselves on our original designs, thoughtful collaboration between our members, and our beautifully hand-crafted BDSM toys, accoutrements and equipment. In an endeavor to develop mastery over our various crafting skills, we abstain from mass-production techniques in favor of undeniable quality. We don't just make toys, we make functional kinky art.
Our Business Model
We are not in this business to profit, we are here to learn. For this reason, we love commissions! Have a crazy idea? Let us have at it. Time turn-around on our products can be slow, but our quality is spectacular and we will aspire to create your vision as you see it. Pricing is variable; it depends on the toy material, the tools needed and time spent in production. Aside from commissions, we are also in the process of growing our stock in preparation for vending at local kink events. We will be posting information and images of our creations as they are completed in our three portfolio pages; wood, metal and other materials. We will also post where we are vending on our store & events page.
Our Contact Information
Please email us at eroticengineers@gmail.com
Save