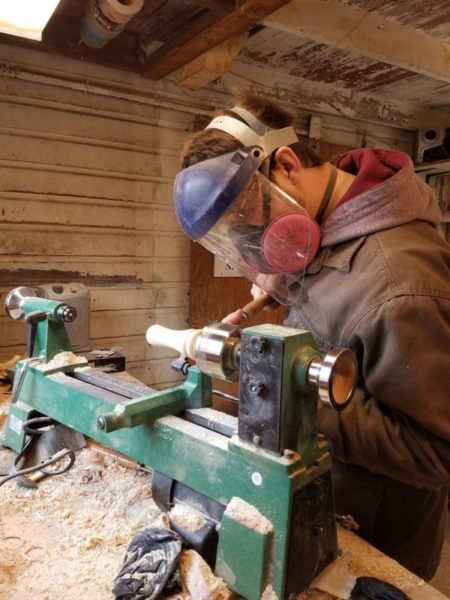 DoubleEdgedSoul (DES) is the reason this group exists. He is self-driven, innovative and holds his work to the highest of standards. He has developed impressive skills in wood-crafting through personal experimentation and self-directed learning. DES is an engineer by trade, and often uses his modeling software to design new toys. While he is analytical and meticulous, he is also a dreamer. Crazy ideas for wood toys are best directed to him.  Apart from general wood-working skills, he has experience in carving, turning (lathe-work) and router template work.  His favorite toy types to make are wooden paddles and insertibles, such as butplugs, however he can also make more complicated bondage gear, such as stocks.
Schadenfreude (Schad) is an inscription artist of wooden toys and placards. Her wood-burned calligraphy, portraits and paintings demonstrate extensive detail and delicate shading. She has some experience in making simple wood-forms, but often collaborates with DoubleEdgedSoul to inscript his more sophisticated wooden toys. Schad also does some leatherwork, usually to add handle sheaths or other accents to certain toys. Because her artistry is so personalized, she usually works on commission only. However, if you visit her at a vending event, she can wood-burn calligraphy and simple patterns on the spot.
Fear_de_Sceana (FDS) is a artisanal blacksmith, who has his own traditional-style coal forge in the countryside. He has apprenticed under a master blacksmith and has actively been forging knives and other bladed tools for over a decade. FDS also crafts marlin spikes, pressure point toys and other handheld sensation toys. All of his creations are a impressive combination of artistry with intimidating edges, making every toy of his immediately recognizable by his signature twists and curls.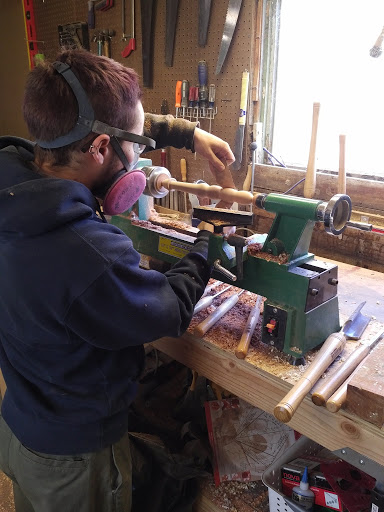 Whomping_Willow (Willow) is the jack-of-many-trades in our group. He is creative, experimental and always interested in learning new skills. Willow's talent as a rigger translates into his crafting, as seen in his paracord braiding for his "patented" monkey-fist flogger and his custom rope body-harness outfits. He also uses his dextrous fingers to create delicate, yet disturbing "Dexter"-style jewelry pieces using dismembered doll parts. Other items of his include fire play kits and fur floggers.
Save
Save
Save